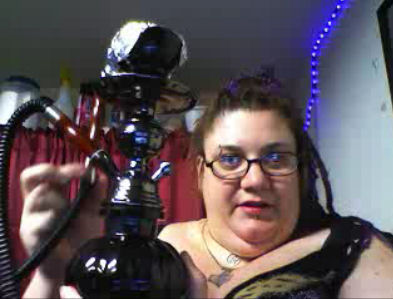 I just got a new hookah a week or so ago, and tried it out for the first time as soon as I got it home.

I first smoked a hookah many years ago, but that was opium, and not the same thing at all. My first experience with smoking shisha with a hookah was a few months ago at the (now defunct, dammit!) Cobra Lounge in Seattle. We were invited by some friends of one of my partners, and it was awesome! Very relaxing, and definitely a sociable sort of thing. I was hoping to go back to the lounge again, but never got a chance to before they lost their lease, but I had been wanting to pick up a hookah of my own anyway, so I finally did.

I bought two different flavours of herbal, nicotine free shisha; rose and coffee, and mixed them together, and it actually tasted REALLY good! Kind of like Turkish coffee. Hmm.. Now that I think about it, I think I may add some cardamom and maybe anise to the mix next bowl.

Anyway, I broadcast my first use of the hookah on my camchat page. It's in the videos section (the videos tab on the chat window). Here are a few more stills from that broadcast.